They say good food depends almost entirely on good ingredients, but where do you store these amazing ingredients?
From standalone static ingredient dispensers and mobile ingredient storage bins to trolleys and racking, we have a range of ingredients dispense equipment that is sure to help you cook up a recipe for success within your business. Now into its 24th year of supplying the food industry with premium quality equipment, Fletcher European offers a variety of food grade plastic ingredients dispensers, all with the rotoX brand quality guarantee.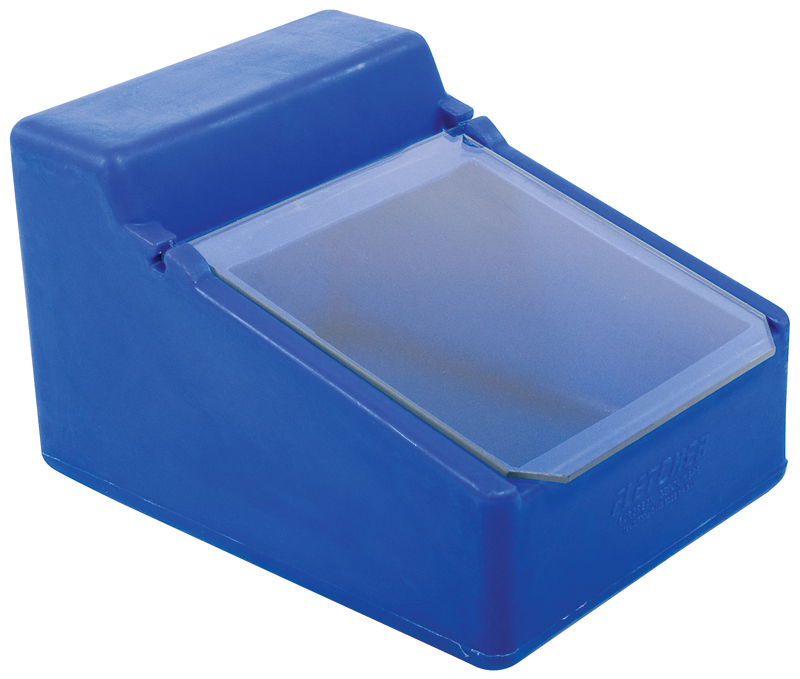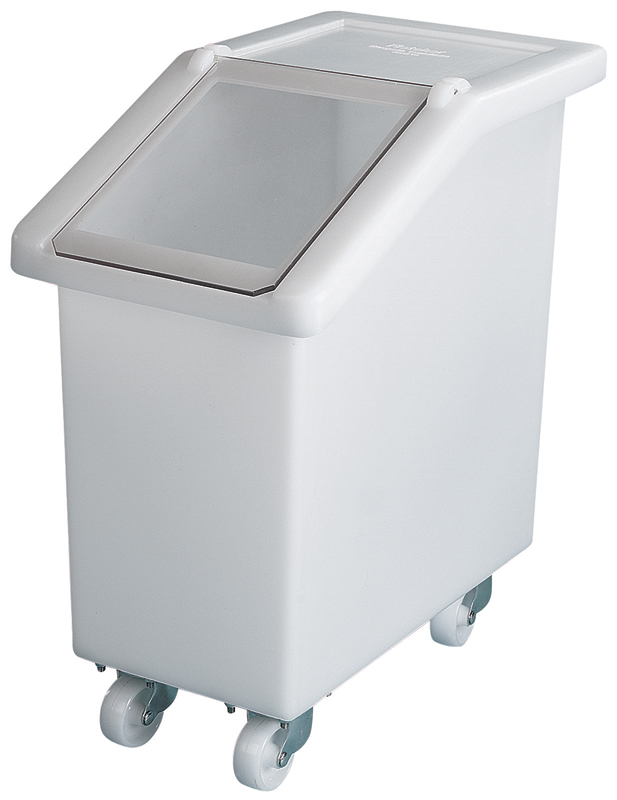 Demanding production environments are often required to keep things moving, so they need reliable equipment that can keep up. From Fletcher European you can choose from a selection of 3 mobile ingredient storage bin units all designed specifically to house bulk amounts of ingredients hygienically and securely, with the added attribute of being easily manoeuvrable. The rotoXM15 has a storage capacity of 65 litres, the rotoXM20, 90 litres and the rotoXM35 a whopping 150 litres. All three models are produced from hard-wearing food grade plastic. With a seamless and dirt-trap free design they are incredibly easy to clean and maintain and are all supplied with a lid and clear plastic flap for easy access to contents.
Butchers, bakers, maybe not quite candle stick makers will find our variety of static table top ingredient dispensers invaluable. Manufactured in the UK and produced using strong and durable food gradepolyethylene plastic they offer an easy way of storing, segregating and dispensing a multitude of ingredients and produce. All part of our rotoX range, the rotoXID8, rotoXID15 and the rotoXID40 offer storage capacities from 8 litres up to 40 litres (that'd hold a lot of sultanas!) Each ingredient dispenser is supplied with a clear plastic flap and the larger models with lids, however we can upgrade the flap to a stainless steel one!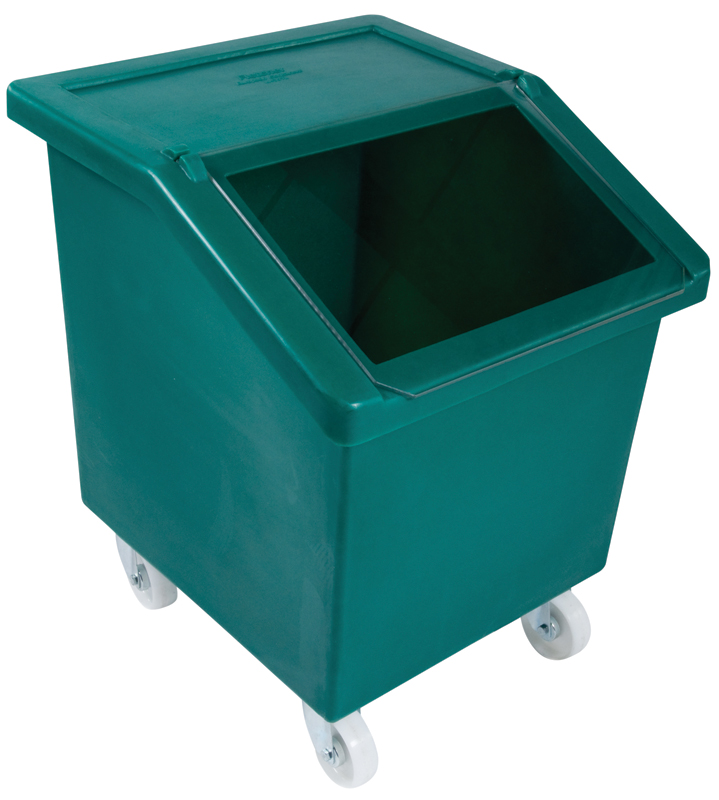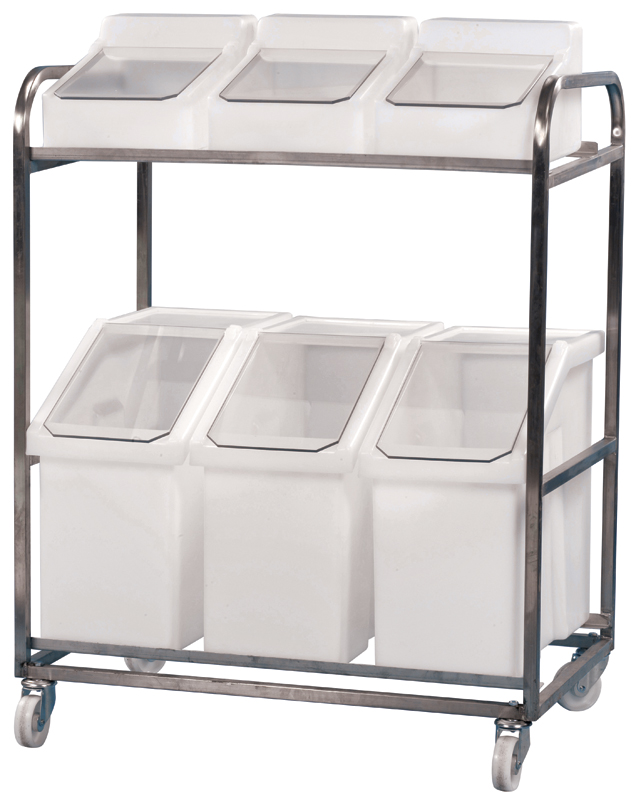 When talking about food your eyes might be too big for your belly, but you can never have too much storage. Our static ingredient dispenser range extends to the likes of the 65 litre rotoXTK15, the rotoXTK20 and the 150 litre capacity rotoXTK35. Made from food grade plastic, impeccably hygienic and easy to clean they offer an ideal ingredient storage solution when working in bulk quantities. These static ingredient bins can also be supplied with stainless steel mobile frames, allowing them to be mobile and easily positioned where they are needed within the production line. The stainless steel ingredients dispense equipment range include the rotoXF15, rotoXF10 and rotoXF8, housing different numbers and sizes of ingredients dispensers providing mobile storage and easy access to ingredients on a large scale.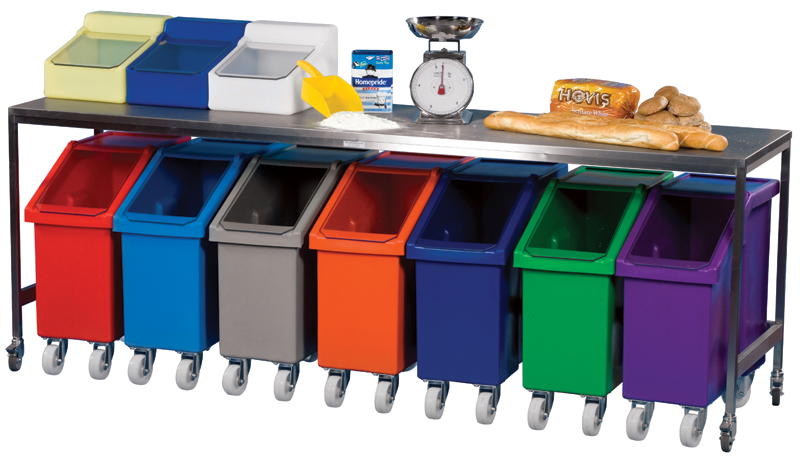 To put the cherry on the top of our ingredient dispenser range of rotoX products, we know that the food production and manufacturing industry is fast paced, so you need to be too. The rotoXFMR and rotoXFBR units are comprised of stainless steel mobile frames complete with a number of hygienic ingredient storage containers, the rotoXFB. These food grade plastic storage containers are positioned on the racks at an angle, allowing you access to their contents quickly and easily.
So why not challenge us today with your requirements for ingredient storage and dispense? Whether you are a small kitchen or a gigantic factory, the rotoX brand of ingredient dispensers has something to help you cook up a storm and taste success for this exciting new year!