Designed for all – Euro stacking boxes provide fantastic storage and handling solutions across the UK and Europe's industries
Exhibiting a European standard size, used widely across the UK and the continent, our range of Euro stacking containers are perfect for use by an almost never ending number of industries. Providing excellent storage and handling solutions for industrial applications within industries such as catering, engineering, food manufacturing, bars and restaurants, retail, pharmaceuticals, horticulture, textiles and clothing manufacturers, farming, packaging, abattoirs and electronics, as you can see the list simply goes on and on… So what makes these plastic stacking containers so great that literally every industry sector just has to have them?
There are many attributes that the Euro stacking container has that makes it essential to many industrial storage and distribution applications. Starting with the plastic boxes themselves, their construction, size, available colours and so on, I'll work through all the amazing traits that these plastic stacking boxes display.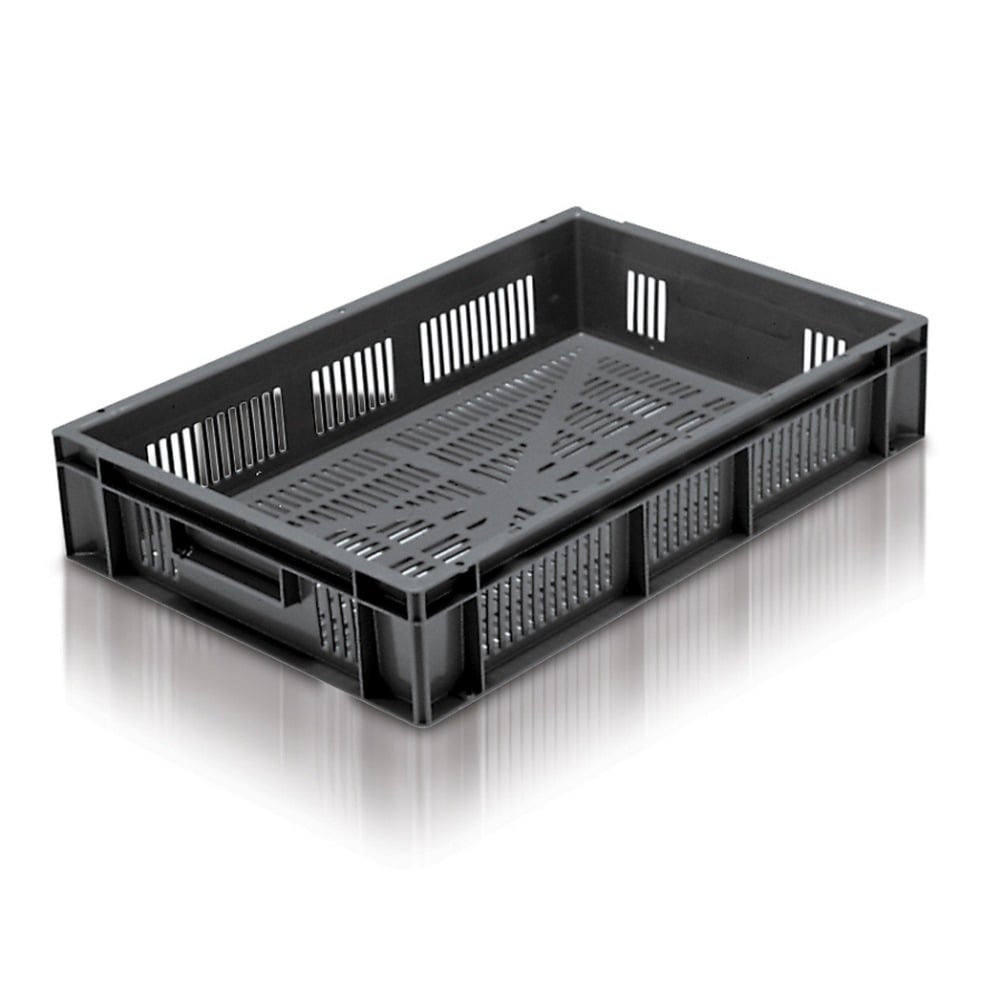 Produced from durable polypropylene our range of Euro stacking boxes are all food grade. The food grade plastic enables the heavy duty plastic boxes to be used throughout the catering industry as well as food manufacturing for food handling and product distribution applications. Their European standard size also makes them compatible with a number of hygienic plastic pallets and our rotoX plastic dollies, rotoXD91 in particular. We stock a large number of Euro stacking containers, available for immediate dispatch, in a variety of colours and sizes. Commonly stocked models include:
UK06032 – Available in grey, red or blue these perforated plastic boxes are sized 600 x 400 x 175mm
UK21013 – Sized 600 x 400 x 75mm, these solid Euro stacking containers are available for quick delivery in grey, blue or red.
UK21014 – Providing exceptional air flow, these ventilated plastic stacking containers are a perforated version of the UK21013
UK21033 – Also available from stock in red, blue or grey these stackable boxes have a solid base and sides (600 x 400 x 175mm)
UK2A021 and UK2A022 are solid and perforated European stacking containers sized 600 x 400 x 120mm and are available in blue, grey and red from stock!
These plastic stacking containers are designed to generally handle a greater volume of contents than your Maxinest stack/nest crates, as they have straight sides. These straight sides only allow the European stacking containers to stack, as their name suggests, but their stacking feature ensures that the plastic boxes stack on top of one another securely. Another key feature of the Euro stacking containers is their large hand holes, making gripping the plastic containers for lifting and manoeuvring an easy task.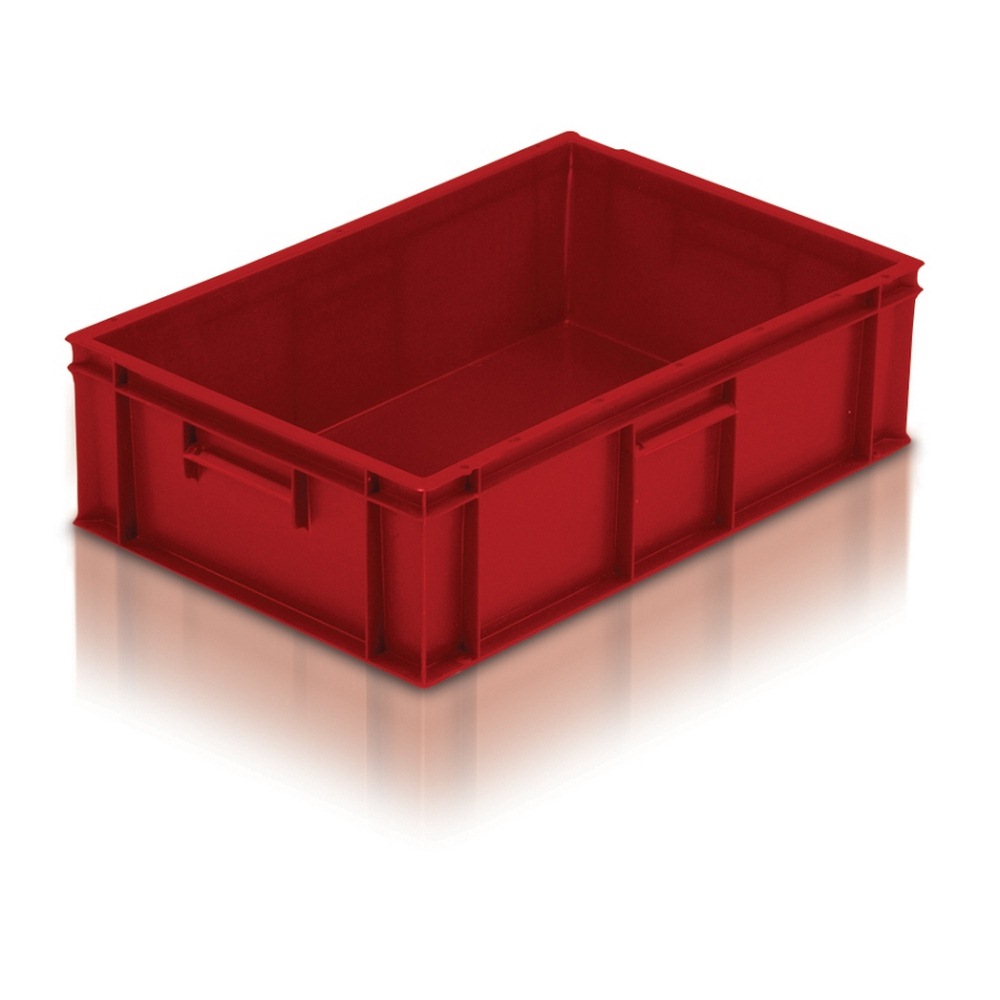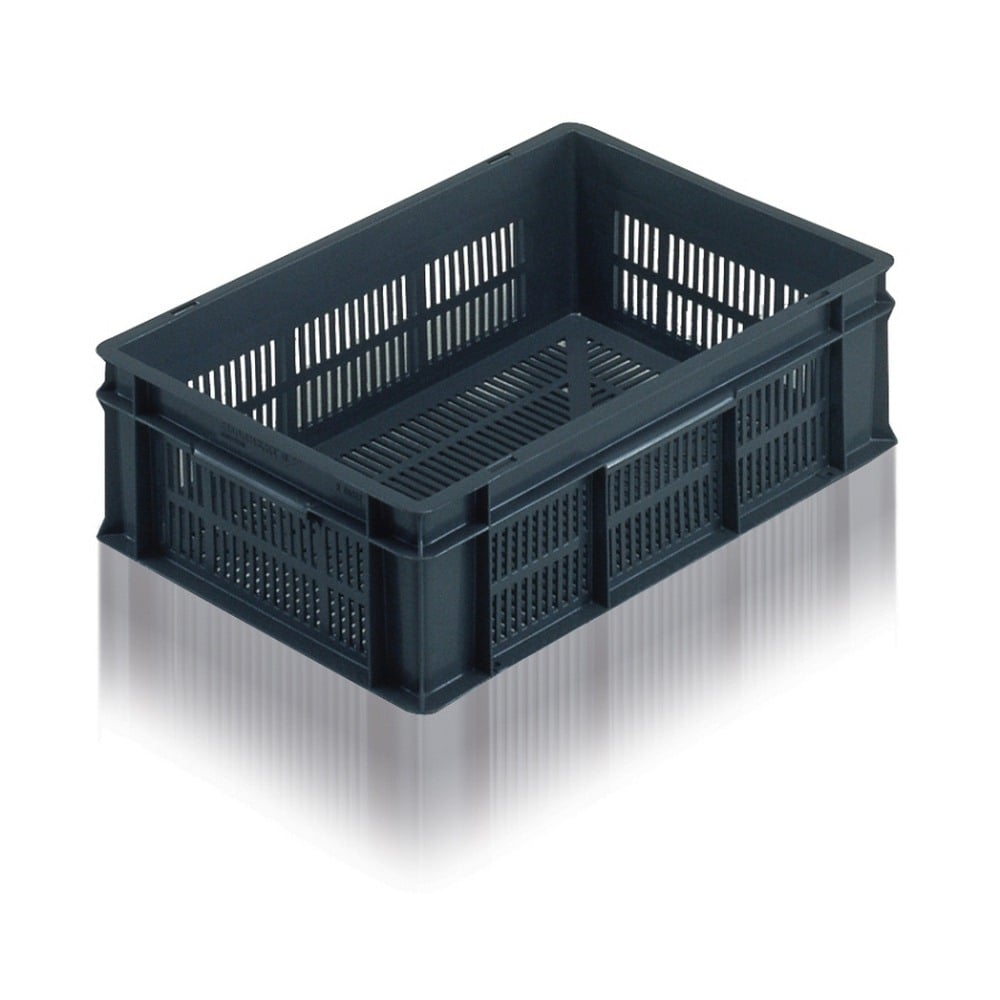 Many of the Euro stacking containers are available with lids and can be further tailored to meet your requirements with the option of printing and hinges or clips. Personalised print allows you to clearly state ownership of the plastic stacking boxes, or make product identification a piece of cake! Perfect for the engineering and electronics trade, many of these plastic stacking containers are electro-conductive (antistatic) and therefore help to prevent any damage to electrical components caused by static discharge.
To enable you to handle stacks of these Euro stacking boxes with ease, we manufacture a variety of rotoX plastic dollies, in both food grade polyethylene plastic as well as recycled plastic material. Our cost effective recycled plastic dollies offer the same structural attributes as their food grade equivalents, but are not suitable for food contact applications.
rotoXD91 – Plastic dolly suitable for handling one stack of Euro sized plastic containers.
rotoXD92 – A solid deck plastic dolly for handling single stacks of Euro stackers
rotoXD52 – These double plastic dollies can safety and securely handle up to two stacks of Euro stacking boxes
rotoXD91REC – These plastic dollies are produced from recycled black plastic and are ideal for use within the engineering, textiles, pharmaceuticals and warehousing industries.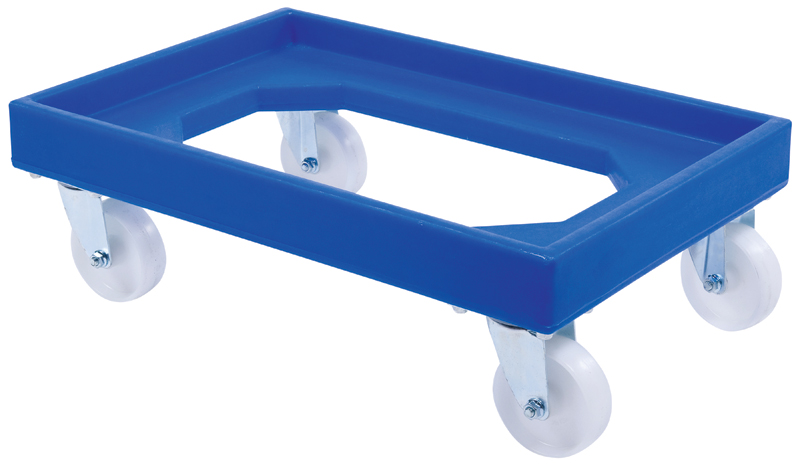 So, if you're looking for a standard sized plastic stacking box that can hold its own within demanding industrial environments, then the Euro stacking container is exactly what you are looking for.