Providing the equipment to help you cook up a storm, Fletcher European's range of colour coded confectionery trays provide durable solutions for storage, handling and distribution of bakery products and confectionaries
Colour coding is a major factor within many industries including pharmaceuticals and waste and recycling, but no more so than the food and catering industries. From a young age, baking cakes and confectionaries at school we are introduced to the idea of food safety and hygiene standards. A huge factor of food safety, colour coding, if used correctly can help to eliminate or at least reduce the risk of cross contamination during food preparation. Fletcher European offer a selection of confectionery trays that can do just this, allowing bakeries, delicatessens, food manufacturing and catering businesses adhere to the regulations and keep their levels of food hygiene at an all-time high.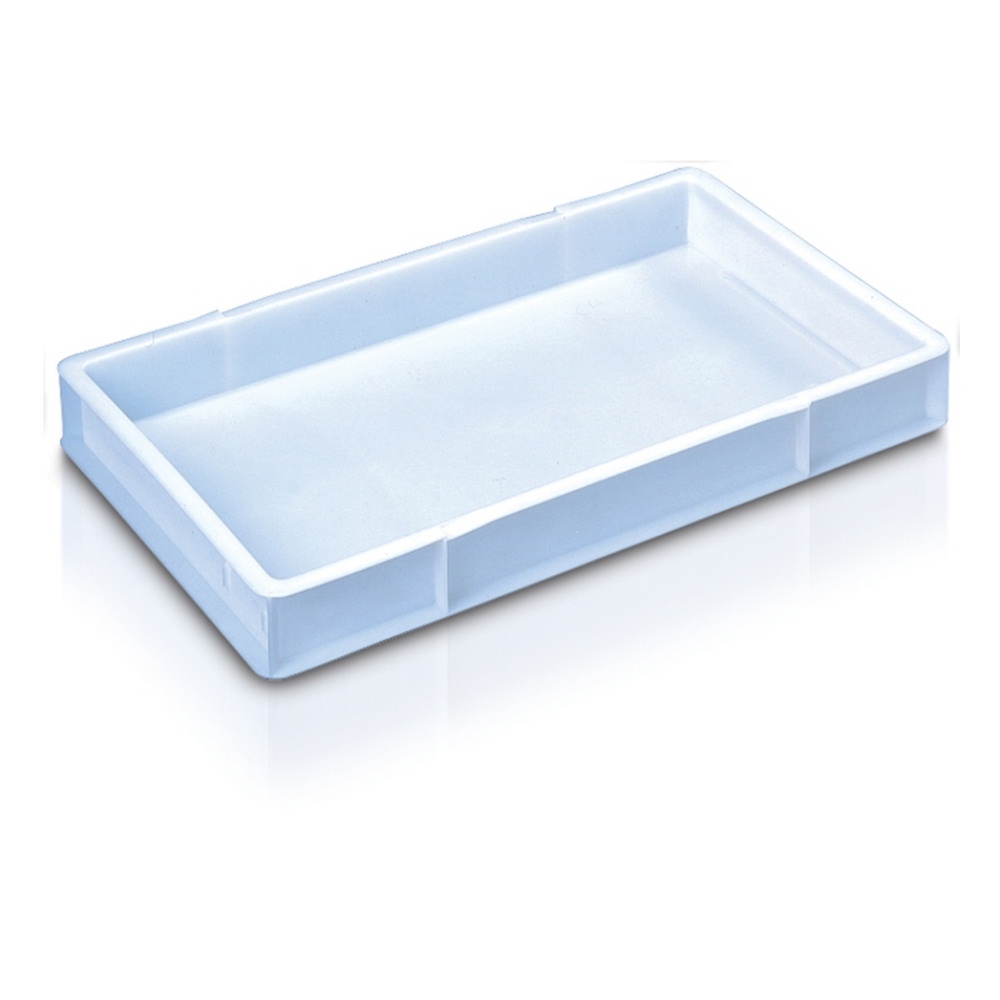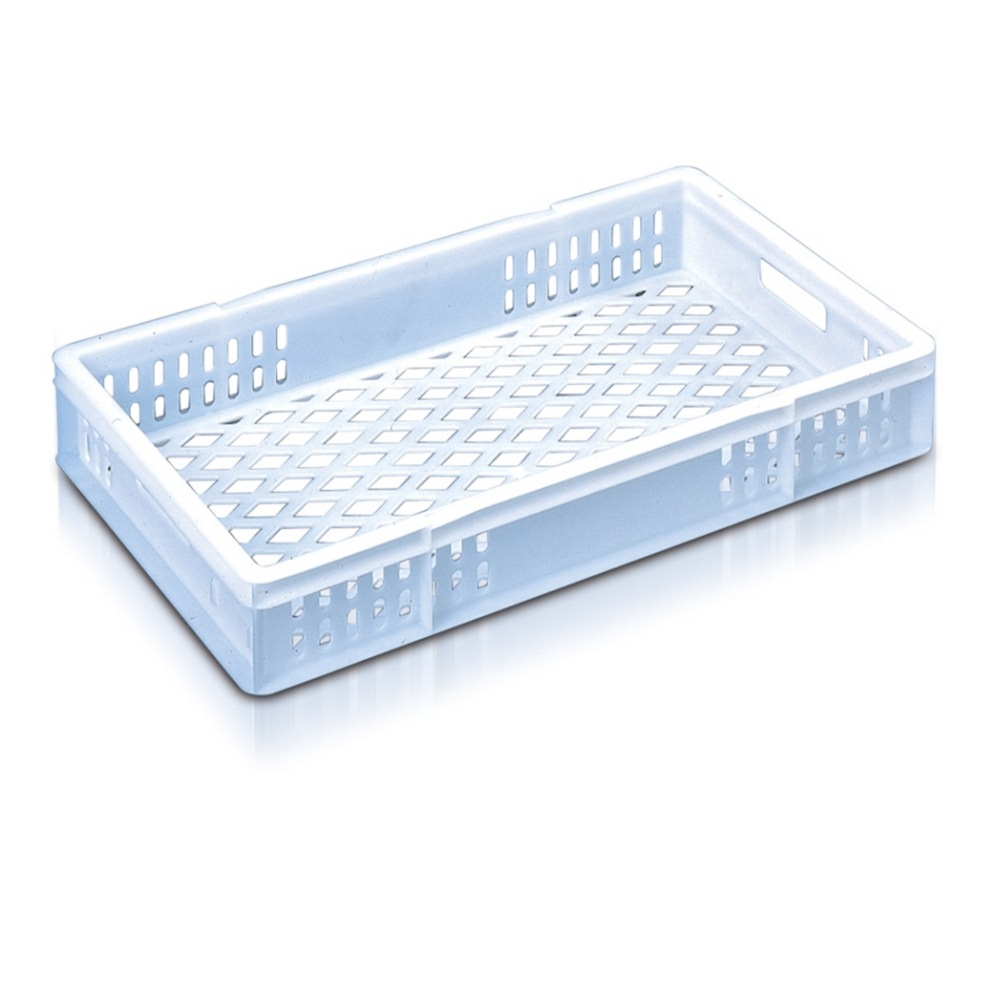 Produced from a durable food grade polypropylene plastic, our range of confectionery trays are available in 3 different depth options, 92mm, 123mm and 176mm deep trays. Each of the three different depths can be supplied in solid, semi-ventilated and fully perforated formats, providing different levels of airflow designed to suit a vast number of applications. One common trait between the 3 sizes or bakery trays is their identical footprint of 762 x 457mm, allowing all of the different sizes to inter-work with one another. Perfect for busy environments such as industrial kitchens and bakeries, or where space is tight within a small delicatessen perhaps, the confectionery trays are fantastic space savers.
We all know the standard food safety and hygiene colour codes, with RED being used for raw meats, YELLOW for cooked meats, BLUE for raw fish, WHITE for bakery and dairy products, GREEN for salad and fruits and lastly BROWN for vegetables. Often associated with chopping boards, these colours are an industry standard, one which Fletcher European can help you follow with our range of confectionery trays and plastic dollies to suit.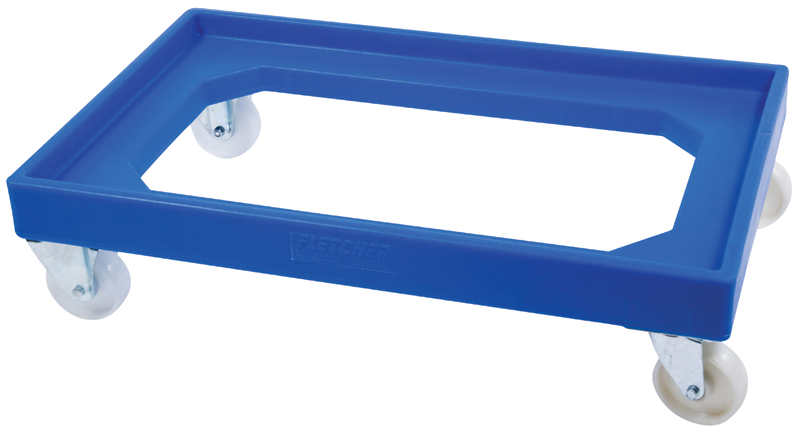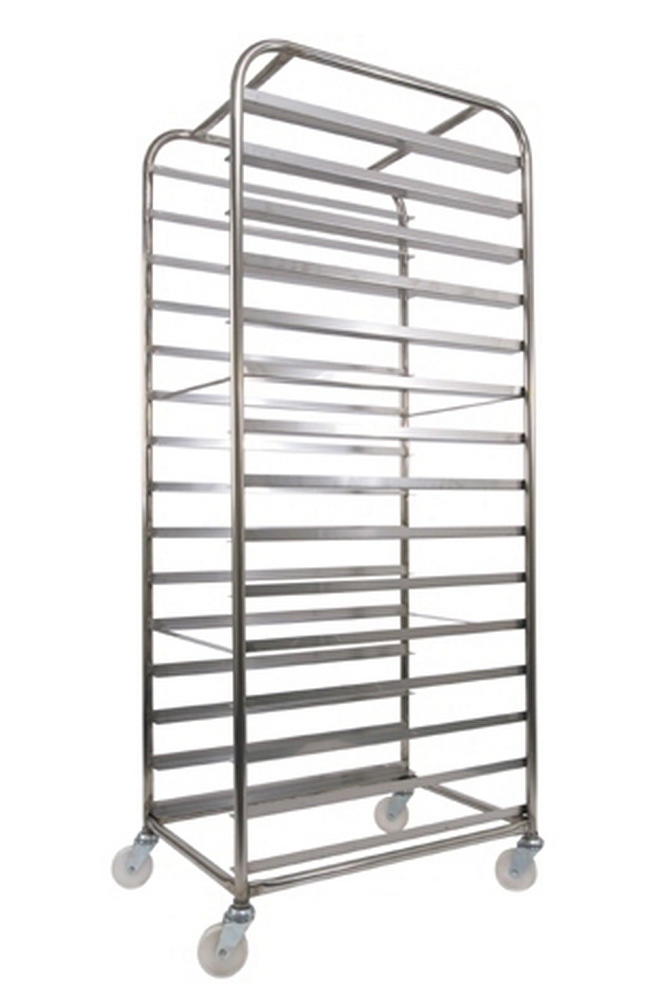 Available in white, blue, red and yellow the below list of confectionery trays offer an exemplary selection of hygienic food grade plastic bakery trays ideal for food manufacturing and bakery environments, providing the perfect solutions for storage, handling and distribution of baked products and confectionaries. Allowing you to easily and securely handle large amounts of these bakery trays around a busy bakery or food factory, Fletcher European manufacture a plastic dolly perfectly suited. The rotoXD38 is an incredibly hygienic food grade plastic dolly that can be supplied in almost any colour required. Helping to aid in colour coding we can produce these plastic dollies in the same colours as the confectionery trays.
Available from stock for a fast and efficient turnaround, the following confectionery trays (bread trays) are available in white, red, yellow and blue:
30183A – A shallow solid confectionery tray. Compatible with our rotoXD38 plastic dolly as well as the RM15SS stainless steel bakery tray rack.
30183C – A fully perforated shallow confectionery tray that is also compatible with the RM15SS confectionery tray racks and our plastic dollies.
30184A – These medium depth bakery trays have solid sides and base. Easily cleaned, they are of a food grade polypropylene plastic and are compatible with the RM9SS confectionery tray racks.
30184C – Medium depth fully perforated confectionery trays, offering fantastic airflow to products. These bakery trays are ideal for storing in our RM9SS stainless steel confectionery tray mobile racks.
30186A – The deepest size of our confectionery tray range, these plastic trays are also compatible with our plastic dollies due to their standard sized footprint.
30186C – Fully perforated, these deep plastic trays can be inter-stacked with any of the other sizes in the range as well as the rotoXD38 plastic dolly.
Helping you separate your products, reducing the risk of cross contamination for potentially high risk food ingredients, our colour coded confectionery trays are perfect for many industrial applications within the food and catering industry. Each size of bakery tray also incorporates a cross stack feature, allowing them to assist in the cooling of their contents. With so much amazing choice available to you, you will be able to adhere to food safety regulations and equip your business to tackle any challenges that lie ahead.
Bakeries and food manufacturing plants alike, if you're thinking confectionery trays, think colour coding. Think Fletcher European.